2023 Programs
Jewish Teens and the Jewish Community with the Israeli Scouts (Tzofim)

March 16-19, 2023
Registration has now closed
Get to know Jewish Toronto with other Jewish teens in a four-day seminar led by the Israeli Scouts. Go on a city tour where you will learn about Toronto's Jewish history, volunteer in the community, and then spend two days at a campsite celebrating a special Shabbat and participating in outdoor activities.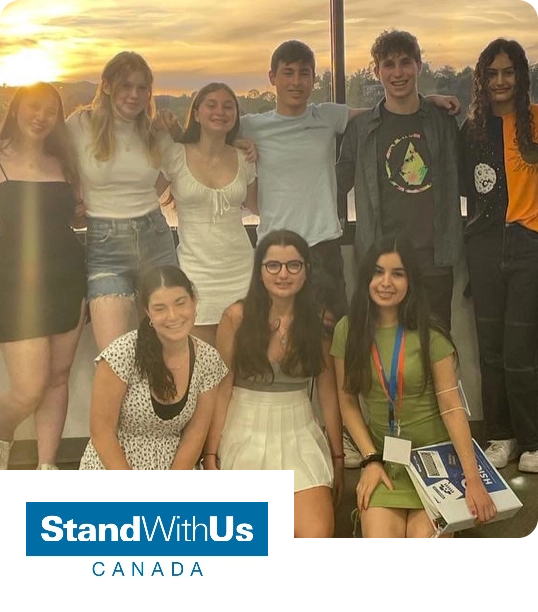 March Break with StandWithUs Canada
March 16-19, 2023  
Registration has now closed
Join like-minded teens for a fun, empowering weekend exploring your Jewish identity in Niagara Falls! Participate in interactive programming and hear from engaging speakers, including a delegation of Israelis! You'll also get to have some fun at the Great Wolf Lodge waterpark and journey beneath the falls on the Maid of the Mist.
USY Canada Convention

March 10-14, 2023
Registration has now closed
Join ECRUSY and teens from across Canada for the second annual USY Canada Convention in Vancouver! Participate in an immersive overnight Shabbat experience together at Beth Israel Congregation in Vancouver. Then, spend three nights in beautiful hotel accommodations, get an exclusive tour of Vancouver's Jewish history, volunteer in the community, see the sights, and experience many other exciting outings and surprises.
*Transportation is not included in price.
Holy Blossom Temple March Break Teen Israel Trip
March 11-19, 2023
Registration has now closed
Engage with Israel and its people as you tour the country, experience sites and history, engage in meaningful activities, and meet with locals. The trip has two interconnected focuses: Israel's narratives and social action. Learn about Israel's different groups and populations and participate in impactful, hands-on experiences.
NCSY March Break Road Trip

March 14-19, 2023
Registration has now closed
Experience New York City's vibrant Jewish community and explore their unique Jewish identity and culture. You will visit schools, museums, synagogues, and volunteer organizations, as well as learn from guest speakers and enjoy Shabbat experiences together with your friends.
BBYO March Break in Montreal
March 15-19, 2023
Registration has now closed
Explore Jewish Montreal's rich history and diversity, connect with BBYO members from the Montreal region, and build a network of lifelong friends—all while touring the city before spending Shabbat together in the picturesque setting of Camp B'nai B'rith.
Ma'agalim - March Break with Shomria

March 14-17, 2023
Registration has now closed
Join Camp Shomria/Hashomer Hatzair for four days of fun and exploration based in downtown Toronto! Play creative games, make art and eat delicious treats, all while discovering our city and all it has to offer. You will have the chance to meet inspiring Jewish activists and organizations, think about how we as youth can be leaders and changemakers, and connect with peers. This is a day camp program for students in grades 7-10.
Intersectional Narratives: Queer Jewish Leadership with Machane Lev
March 12-15, 2023
Registration has now closed
Connect with the Queer and Jewish communities in new ways and develop your leadership skills through visits to Jewish spaces and queer institutions, community guest speakers, reflection and journaling workshops, facilitated dialogue, and peer-led activities with the traditional camp flare of games.
*March Break Experiences are offered to eligible applicants by StandWithUs Canada, USY, Holy Blossom Temple, NSCY, BBYO, Camp Shomria, Machane Lev, and by Tzofim - The Israeli Scouts (together: "Organizations" and any one of them: "Organization"), each has sole authority in the determination of eligibility and acceptance criteria as well as all policies governing the operation of its respective March Break Experience. Each Organization has secured the use of this system by way of which applicants, registrants and participants, and/or their authorized representatives are able to submit their required information and get in touch with Organizations. No agreement whatsoever will be considered to have been concluded between the users of this site and UJA. The only agreements and/or understandings with applicants and registrants and their authorized representatives are those which exist between the users of this system, and the relevant Organization.