Webinar Topic: How to Build a Sense of Community at Camp
Speaker: Meir Balofsky, Assistant Director, Experiential Education Director at Ilan Unviersity


Meir Balofsky is originally from Toronto and moved to Israel in 2004 with his wife and three children. Meir has maintained close ties to the Toronto community and has returned each summer to join the staff at Camp Moshava Canada in each year of its operation since making Aliyah. Meir currently resides in Ramat Gan with his family.  
Webinar Topic: Working with near peers and campers 12+ - Tips, tricks and techniques to add to your toolkit
Speaker: Mark Kachuck, National Education Director at Canadian Young Judea


Even before he was born, Mark was destined to grow up living and breathing camp! A proud alumni of the Canadian Young Judaea Youth Movement, Mark attended Camp Shalom, Solelim, Biluim Canada and Biluim Israel. He then went on to staff Camp Solelim for five summers, finishing off as Program Director in 2017. He then staffed Biluim Israel for one summer before taking on the role of Assistant Director for Camps Kinneret and Biluim Canada from 2018-2020. Mark was also a founding member of Machane Lev, Canada's first Jewish LGBTQ+ overnight summer camp and is the current Co-Director! Currently, Mark works for the Member of Parliament for York Centre, doing outreach and social media work. Camp is still his greatest love and he continues to volunteer with CYJ as much as possible. 
Webinar Topic: Involvement in the Jewish Community
Speaker: Ashley Karp, Executive Director, UJA Genesis 


Ashley is the Executive Director of UJA Genesis. Genesis aims to enhance Toronto's Jewish community by nurturing Jewish non-profit initiatives as well as nurturing the personal careers of young adults.
Webinar Topic: Emotion Regulation: specific techniques for how to soothe yourself campers and near peers; How to read camper files regarding mental health and how to best prepare; Anxieties around COVID and new precautions and culture of compliance at camp
Speaker: Leanne Matlow, Counselor and Workshop Faciliator


Leanne Matlow has spent her entire career working with children her work as a classroom teacher, Special Education Remediation specialist and counselor. Leanne is a Professional Colleague of the Academy of Cognitive Therapy and an Associate Member of the Association for Behavior and Cognitive Therapies. Her children's book, Thinking About Thoughts is a recommended reading for parents on Kids Mental Health.ca. Her second book, Tell Me!  was written with families in mind as it stresses the importance of honesty as way of alleviating anxiety.  Leanne's blog for parents can be found at http://lmatlow.blogspot.ca.
Webinar Topic: Panel Discussion on Inclusion at Camp
Speaker: Liv Mendelsohn, Director of Accessibility & Inclusion, Miles Nadal Jewish Community Centre, and Artistic Director, ReelAbilities Toronto Film Festival


Passionate about building accessible communities engaged in the arts with a focus on youth with disabilities, Liv is an advisor to EnAbling Ontario, and the Our Doors Are Open Ontario multi-faith inclusion project. Liv is also a 2018 Civic Action DiverseCity Fellow, and a 2018-2019 mentor for the AFP Fellowship in Inclusion and Philanthropy. Liv holds a Master of Arts and a Master's in Education. She is a field instructor for the Faculty of Social Work at the University of Toronto.
Speaker: Lauren Schrieber Sasaki, Jewish Life Program Coordinator at Miles Nadal JCC


Lauren Schreiber-Sasaki is the Jewish Life Program Coordinator at the Miles Nadal Jewish Community Centre. Lauren runs Jewish&, programs geared to multi-faith, multi-cultural and multi-ethnic members of the Jewish community.
Speaker: Tema Smith, Director of Professional Development at 18Doors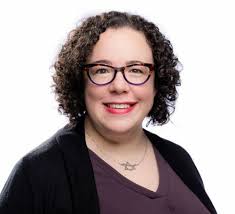 Tema Smith is a diversity advocate, writer and Jewish community builder. She is currently the Director of Professional Development at 18Doors (formerly InterfaithFamily) an organization that empowers people in interfaith relationships to engage in Jewish life and make Jewish choices, and encourages Jewish communities to welcome them. This comes after seven years as a synagogue professional, most recently as the Director of Community Engagement at Holy Blossom Temple, Toronto's oldest synagogue.
Speaker: Sara Yacobi-Harris, Founder of No Silence on Race


A community organizer, educator, writer and filmmaker. Her current work focuses on equity, inclusion and anti-racism strategy and policy implementation. She also leads BIPOC focused community outreach, mentorship and festival partnerships. She has worked directly with BIPOC TV&Film, Regent Park Film Festival, Reel Asian Film Festival and ReelAbilities Film Festival. Sara has worked on several TV and digital productions at the CBC in the Unscripted department and has written for the CBC. Previously, she worked at the Toronto International Film Festival (TIFF). 
Webinar Topic: Adding Professional Skills from Camp on Your Resume and in Job Interviews
Speaker: Shoshi Rotschild, Consultant


Shoshi has over a decade of experience working in the Jewish communal world, with an extensive background in camping and informal Jewish education. She has held roles at the Bronfman Israel Experience Centre, Camp Kinneret-Biluim, Federation CJA, and Camp Massad, and has led various Israel experience programs, including Taglit-Birthright Israel and March of the Living. Shoshi holds a bachelor's degree from McGill University and a Master's in Human Systems Intervention from Concordia University. She is a graduate of Foundation for Jewish Camp's Yitro Leadership program, a current participant in the M2: The Institute for Experiential Jewish Education's Passport to Jewish Life Fellowship and was the recipient of Foundation for Jewish Camp's 2018 Excellence in Jewish Education Award. Shoshi currently works as an independent consultant and contractor, who specializes in strategic planning, evaluation, and organizational development.
Webinar Toopic: How to Engage Campers and/or Staff with their Jewish Journey in a Meaningful and Empowering Way
Speaker: Amanda Snow, Director of Graduate Student Life Columbia/Barnard Hillel


Amanda is originally from Thornhill, Ontario and currently lives in New York, NY.  She has extensive camp experience working at Camp Kadimah, Camp Mountain Chai, and Camp George. Amanda has a master's degree in Jewish Education from the Jewish Theological Seminary in New York and a certificate in Experiential Jewish Education from the Pardes Institute of Jewish Studies in Jerusalem. She completed the iCenter's iFellows Masters Concentration in Israel Education, Moishe House's 4HQ Israel Education program, and has staffed 6 Birthright Israel trips. Amanda is currently the Director of Graduate Student Life at Columbia/Barnard Hillel. When she is not drinking coffee with grad students, Amanda can be found making challah, binge watching reality tv, and trying to find the best pizza in Manhattan! 
---
To return to the main Silber Fellowship page, click here