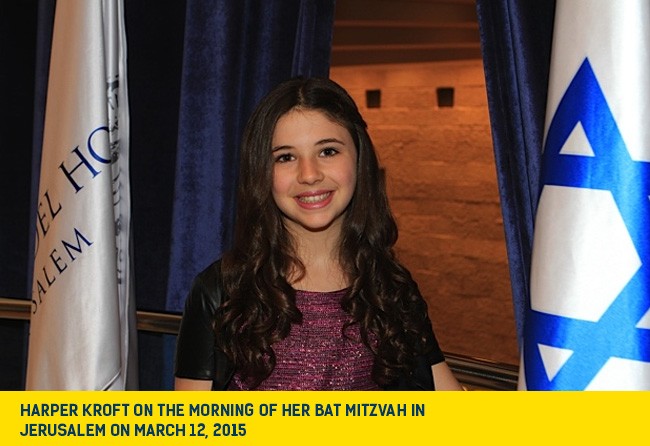 The haunting, unforgettable opening to Norman Jewison's 1971 production of Fiddler on the Roof has Tevye explaining the importance of tradition, and what is expected of the people in his village of Anatevka.
Toronto's Kroft family has a tradition of its own, and it's a vital one that will ensure that they spend time in Israel whenever possible.
Tevye would be proud.
"It has been a Kroft family tradition of celebrating mitzvahs in Israel," said proud father, Jason who, along with wife Marci and daughters Harper and Sloane, recently celebrated Harper's bat mitzvah in the Jewish state.
"We recently returned from our beloved Israel where we were joined by family and friends on a two week tour. The highlight of our visit was witnessing our daughter, Harper, become Bat Mitzvah. What a beautiful and meaningful experience - to be together in our Jewish homeland. We have committed to go back many times and to help support Israel in Toronto."
And, true to his word and that of his family, the Kroft clan - which plans to return to Israel for nine-year-old Sloane's big day - was so moved by their visit to the Jewish state and their daughter's bat mitzvah, it is indeed doing what they can to help support the Jewish State from Toronto by fundraising for UJA's Walk with Israel, taking place on May 18th.
"Having my bat mitzvah in Israel was amazing," said Harper. "I am joining my family to Walk with Israel as one way to show my support and love for Israel in my community."
Harper and her family set up their fundraising page under the banner "Harper's Bat Mitzvah Year", at  and made it clear, on that page, just why they decided to commit their time and energy to the Walk with Israel by posting the following message:  "It is very clear to us that Israel needs the support of good people everywhere.  It is a wonderful nation, a real success story. We cannot take Israel for granted. We must do our part."
And speaking of "doing our part", for the second consecutive year, Marcy Abramsky is chairing the Walk with Israel. 
"The Walk with Israel is an important fundraiser, as it generates proceeds which are used for UJA's transformative projects in Israel," says Abramsky.  "It is also the one day where our entire community comes together and makes an important statement, telling the people of Israel, and the world, that we stand with the Jewish state.  While I have not met Harper or her family, I am so proud of them as they are an example of the committed members of our community who want to ensure Israel's strength and vitality today, and for generations to come."
There is still time to register for this year's Walk and to fundraise on behalf of the people of Israel. Visit walkwithisrael.com, or contact us at info@walkwithisrael.com or call the Walk hotline at 416.631.5700.