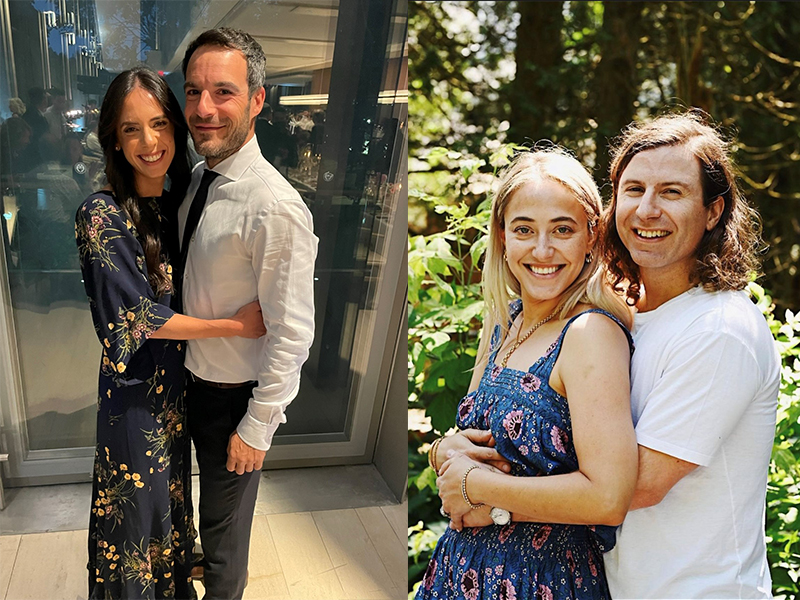 Left: Madison & David Isaacman. Right: Yael & Dan Kanter.
In Conversation with David & Madison Isaacman, and Dan & Yael Kanter
UJA's Walk with Israel is right around the corner. This year, two couples are bringing new energy to this beloved annual event. Co-Chairs David and Madison Isaacman, and Dan and Yael Kanter chatted with UJA's Rebecca Ostroff about why the Walk is so important this year, and what they're most looking forward to on the big day.
Talk to me about why you chose to get involved with this year's Walk.
Madison: Quite honestly, it was a very quick yes between David and I, assuming our lovely Co-Chairs were going to get on board as well. We were excited to live up to the challenge. It's also giving us the tool to connect with people who aren't particularly involved in community. We have the opportunity to engage them in something really fantastic.
Yael: We have young children at Jewish day schools, and the Walk is something that I remember being involved with myself as a kid. I think the Walk is such a great way of supporting Israel as a community in a way that is fun for the whole family.
David: I feel like every year we say the Walk matters more than ever. And it's interesting because there's an argument to be made, I think, every year for that exact thing. The way I look at it, you could pick a crisis moment at any point in time and sort of rally behind it.
Yael: But this isn't a crisis moment. This is a celebratory moment.
David: Yes! This year we get to celebrate Israel's 75th birthday. Which is huge.
There are so many aspects to the Walk. What's one aspect you're specifically interested in?
Yael: My children are going to come. They're going to see their friends. My friends are all going to be there. And I'm so excited about an event that's really engaging and accessible for the entire community.
David: Yeah. All of our kids go to Jewish day school and it's important for them to see their parents actively involved in the community and have a level of pride for Israel. To be able to pass that along is very important for me within my family.
Madison: I'm also just excited for the energy of the day and to see it all come to fruition. I'm excited to see the tens of thousands of people come together, and to really feel the energy of the event.
What would you say to someone who is curious about the Walk but isn't sure it's for them?
Yael: I think that if you're willing to attend other events in Toronto that are fun, family-oriented events, this is a very good one if you're a Jewish family.
David: Also, these dollars go into the fabric of Israeli civil society, social programs, and the like. It's not about the politics. It's about supporting the people in Israel.
Madison: I would encourage anyone to come out, given that the events can target really any age, any demographic. There's a piece of the Walk for everyone. Whether you're there to walk, whether you're there for the party, whether you're there to support Israel or support your friends.
Yael: Also, there's exercise involved. That's always a good reason.
Speaking of the day of the Walk, what are you excited for at the event itself?
Madison: I think to my earlier point about bringing tens of thousands of members of our community together. That would be pretty cool to see. It obviously doesn't happen any other time of the year.
Yael: Yeah. And I think that for me personally, this is my first time being involved on any level as an individual with any charitable Jewish organizations. I'm really excited to start a lifelong relationship with UJA and raising money for a lot of important causes.
David: I think we're all really excited to work with each other too. We've all been friends for a very long time, and it's nice to bring those relationships into supporting the community as a whole. It's been personally fun to go out and raise dollars for the Walk. People have been very receptive to donating and very supportive of this cause. Knowing how much we've been enjoying the process so far, I can't wait to see the whole day unfold from start to finish.
Are you ready to Walk with us? Register today at WalkWithIsrael.com