UJA Federation of Greater Toronto is proud to partner with the Schulich Foundation to support excellence in STEM research in Canada and Israel. Through this series, we will be highlighting some of the exceptional Schulich Leaders in Israel who make up the next generation of entrepreneurial-minded technology innovators.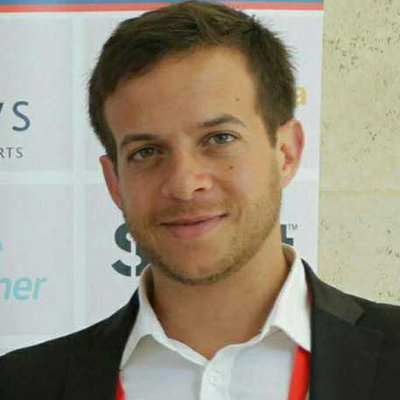 Imagine a trip to the mall with your friends, all virtual. With online shopping becoming more popular than ever before given the pandemic, taking group trips to a store seems to be a thing of the past. However, giving people the power to shop online together has long been the vision of Jonathan Abraham, a Schulich Leader alumnus. He is the co-founder of a startup called Gamitee, which brings to life that vision through an innovative technology that integrates with e-commerce platforms. "We're providing workplaces for Israelis and increasing sales in the Israeli e-commerce system," said Jonathan.
As a 2016 graduate of Hebrew University, where he completed a double degree in Physics and Entrepreneurship with a computer specialization, Jonathan is no stranger to the world of startups. Having been awarded the Schulich Leader Scholarship at the start of his degree, it certainly played an important role in supporting his various entrepreneurial endeavours, of which there were many.
Growing up in Beit Zayit, a small town outside of Jerusalem, Jonathan was always drawn to the STEM subjects. His passion for science and technology led him to attend several advanced programs at the high school level. "I was very good at building rockets," said Jonathan.
His business ventures started early, at the age of 15, when he began running several summer camps for kids in his town. "I made a fortune, for a 15-year-old," joked Jonathan. He also started a band in 2011, called the Springs, where he was the lead vocalist.
Later on, Jonathan enrolled in the Hebrew University in Jerusalem. Due to his many academic accolades and his interest in combining his two passions for science and entrepreneurship, he was granted the Schulich Leader Scholarship in 2013. Jonathan notes that this generous award, funded by the Schulich Foundation, allowed him to not worry about paying for tuition and instead focus on his studies and get involved in various university initiatives.
"I was part of the Student Ambassadors team at Hebrew U, so I got to be a representative of my university at different conferences around Israel," said Jonathan. During his early years at university, alongside the ambassador program, he started his first company called LiveShirT. This startup aimed to develop baby onesies that had the technology to monitor a child's vital signs of life and prevent Sudden Infant Death Syndrome.
In 2017, Jonathan visited Canada where he gave a series of TED Talks in several major cities, including Toronto, Montreal, Calgary, and Vancouver. He met with their local Jewish federations to spread the word about the Schulich Leaders program and the many entrepreneurship initiatives at Hebrew University. "It was a really great experience, and was very impactful on both sides," said Jonathan.
Jonathan's Canadian connections have been critical to the success of his Israeli business, Gamitee. The first investors in his startup were Canadian, and his co-founder is too — "so there's a lot of Canada in my start-up," said Jonathan.
However, Gamitee was not immune to the difficulties caused by COVID-19, and Jonathan noted 2020 was the most challenging year for the startup. Their team had to adapt quickly to changing circumstances, and as a result of these efforts, they were able to sign a big partnership in Canada, so their software is going to start appearing on Canadian websites in the near future.
"I was very thankful to have the network of leaders I met through the Schulich program, both participants and mentors, to help guide me through this crisis. I am proud to say that thanks to all their support, we made it through and are now opening up another investment round," said Jonathan. "I'm very connected to the Jewish community in Canada because of all these partnerships, and I appreciate how involved Canadians are in supporting Israeli entrepreneurship."