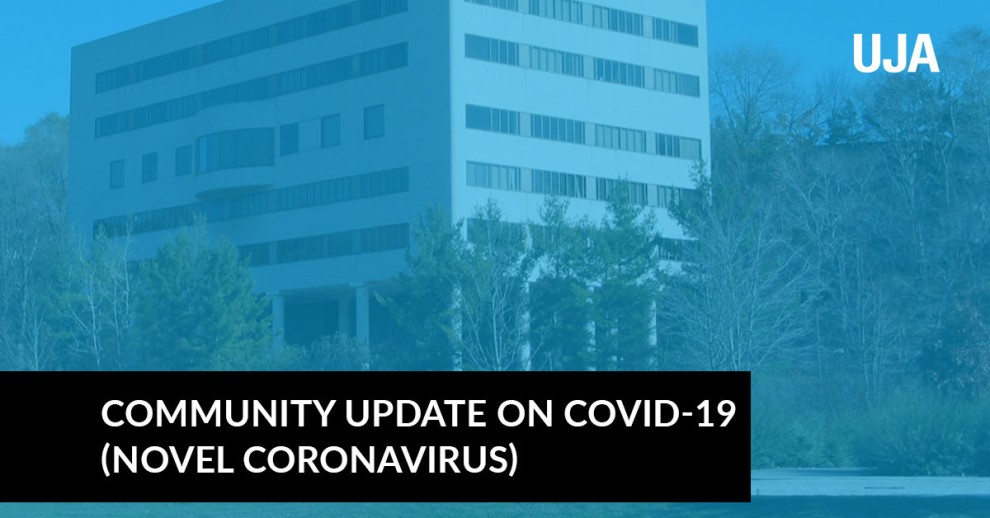 In light of the COVID-19 pandemic, UJA Federation of Greater Toronto is offering ongoing updates to our community. Our goal is to facilitate a coordinated approach to maintaining a safe environment at Jewish institutions, ensuring the continued vibrancy of Jewish life in our city during this challenging time.
Our collective vigilance is especially vital given the severity of COVID-19. While authorities note that most patients experience mild symptoms, they also warn that the virus is acutely dangerous to at-risk populations: those who are elderly or have compromised immune systems. The precautions we take as individuals and as a community will help save the lives of the most vulnerable among us. Further details on how to protect yourself and others may be found here.
Last Friday, we shared reasonable precautions that UJA Federation is taking to protect the health of staff, volunteers, and community members. As this situation evolved over the past week, we have taken the following additional steps:
All UJA Federation events scheduled to take place in March have been cancelled (decisions about future events will be made in the coming days);
All UJA Federation meetings have been evaluated on a case-by-case basis, with some being cancelled. Remote access has been provided for those who wish to participate in meetings apart from the group setting;
In anticipation that it may soon be necessary, UJA Federation has further developed contingency plans to enable staff to work remotely, including ensuring all required technology is in place;
In conversation with Jewish social service agency partners, we are actively working to identify interventions to help vulnerable populations within our community during this challenging time, with particular attention to seniors who may be isolated in the coming weeks and months; and
We have provided advice and support to UJA's 14 affiliated Jewish day schools navigating this situation. In response to the Government of Ontario's announcement that public schools will be closed for the next three weeks, 10 Jewish day schools in our city are cancelling in-school classes and preparing distance-learning opportunities for students.
Various synagogues and community organizations have reached out to ask how they can best adapt to the current situation. Those decisions can only be made effectively on a case-by-case basis in consultation with medical authorities, particularly Toronto Public Health and York Region Public Health. We encourage all community institutions to contact public health for any questions related to organizational practices.
Please note that many synagogues and institutions have adopted a range of new procedures, which organizations may wish to consider. These include:
Asking – and repeatedly reminding – congregants, volunteers, and staff to stay home if they have cold or flu symptoms, no matter how mild. (e.g. posting a sign at the front door asking people not to enter if they are feeling ill, posting a reminder at the top of every weekly newsletter, etc.);
Adopting – and repeatedly articulating – social distancing policies, such as no handshaking, no hugging, no kissing, and maintaining personal distance where possible;
Asking congregants and staff to wash hands upon entering the building;
Cancelling communal kiddushes and the serving of food;
Cancelling programs and events, other than core services;
Reminding congregants not to kiss the Torah, mezuzot, siddurim, etc.
Moving programs to larger rooms to increase space between participants;
Asking congregants to keep an empty seat between one another;
Applying extra caution when it comes to mobilizing staff or volunteers to support the elderly or vulnerable (e.g. asking volunteers to maintain a two-metre distance from vulnerable individuals where possible, screening staff and volunteers by asking if they are feeling sick prior to volunteering, etc.);
Avoiding shiva calls if you are sick (i.e. by calling a mourner rather than paying a house visit); and
Instructing maintenance staff to devote greater attention to disinfecting key touchpoints in the building, including doors, elevators, reception desks, light switches, fridge handles, computer keyboards, etc.
We applaud all rabbis, community leaders, and Jewish institutions that have taken great care to protect the health of those who are at risk. Thank you for your vigilance in helping to keep our community – and all residents of our city – safe. We wish a quick and full recovery to all who have been infected by COVID-19, and strength to our incredible health care professionals working on this crisis.
If you have any questions, suggestions, or concerns, please do not hesitate to contact us.

Shabbat Shalom,
Adam Minsky
President & CEO
UJA Federation of Greater Toronto