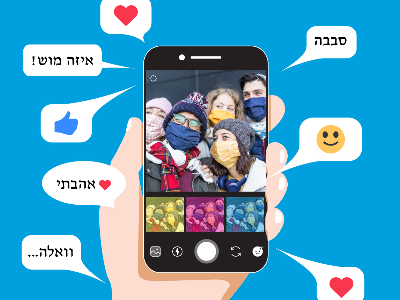 Discover the story behind your selfie with #Jlife and explore the language of photography and the role of image in self-expression.
This program inspires teens to explore their personal and communal identity through the lens of a camera.  

Throughout this 10-week course, participants will learn the fundamentals of photography and explore this art form as a means of self-exploration and self-expression. Through the use of photography, we can create a visual language that can send direct and indirect messages about the way we chose to observe the life around us and the content we chose to bring forward.

This course will be guided by a master photographer, educator, lecturer, and artist Doron Horowitz (along with other skilled educators) who will teach the fundamentals of photography as a personal journey.
The course will enable the teens to build a series of observations about themselves, their family, their community, their Jewish identity, their identity as an Israeli, etc.  As part of this program, teens will be able to express themselves, increase their awareness, and think like leaders. As the teens observe and freeze moments in time, their art will have a whole new meaning.
Participants will use photography like never before to explore and observe themselves and their world and ultimately tell a story that is all their own. Participants will have an opportunity to present their work at the end of the course in a virtual exhibition.

This brand-new program is sponsored by Mosaic United and UJA Federation of Greater Toronto.