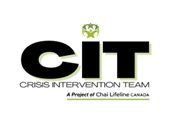 Part Time: 5 - 10 hours per week
Hybrid role
The Crisis Intervention team (CIT) is a project of Chai Lifeline Canada. We started the CIT to ensure the community was supported in times of significant adversity.
When the unthinkable happens, The CIT is there to respond. The CIT offers support for children, families, schools, synagogues, and local organizations following a crisis within the community. We are looking for a Director of the CIT to recruit, train and support a varied team of volunteers from across the community. The successful candidate in this senior leadership role will independently run the Crisis Intervention team offering the community immediate support when it is needed.
Responsibilities
Recruiting volunteers from all areas of the community
Providing ongoing and effective training to volunteers ensuring they have the tools to support the community in a time of crisis and to help mitigate effects of trauma
Coordinate appropriate volunteer intervention to respond immediately at time of crisis
Coordinate appropriate volunteers to attend schools and synagogues in a timely manner at time of, or shortly after crises to provide support
Ensure volunteers have the opportunity to debrief in a timely manner, be it one-on-one or in a group setting
Act as a resource and expert to schools, synagogues and organizations during a time of crisis
What you need to succeed:
Superior interpersonal and communication skills
Emotional intelligence and a strong social radar
Good at networking and recruiting appropriate volunteers
Good judgment and decision-making skills
Motivated by innovating, moving quickly, and executing well
Eager to give and receive constructive feedback within a highly collaborative team
Thrive on identifying ways of improving existing systems and structures
Excellent initiative
Cultural sensitivity and respect
Able to identify problems when they arise and quickly work to create solutions and implement them
At ease with and enjoys working with professionals and volunteers from all generations and backgrounds
Flexible and reachable across all communication platforms during non-traditional work hours
Required Experience:
Clinical Background is a bonus
Experience in grief and trauma will be helpful
 Why work for Chai?!
Generous vacation including all Jewish holidays
Great culture - we're always here to help each other out!
Flexible working schedule
Continuous education allowance
Interested applicants should email their resume to escherer@chailifeline.org
Please note, only applicants selected for an interview will be contacted.
Chai Lifeline Canada is committed to inclusive and accessible recruitment practices to applicants with accessibility needs in accordance with the Ontario Human Rights Code and the Accessibility for Ontarians with Disability Act (AODA). Reasonable accommodations are available on request for candidates with disabilities taking part in all aspects of the selection process.
To learn more about Chai Lifeline Canada please visit our website www.chailifelinecanada.org